Keep your art studio organized
I'm now entering the second month of my full-time endeavor as an artist. I'm focusing the majority of my effort towards my federal duck stamp entry for these couple weeks. So I don't have a lot of new works to present. However I'm still spending a lot of time in the studio. Saying organized is definitely a challenge as this is generally the only good work space I have in the house.  Here's a picture from the other day.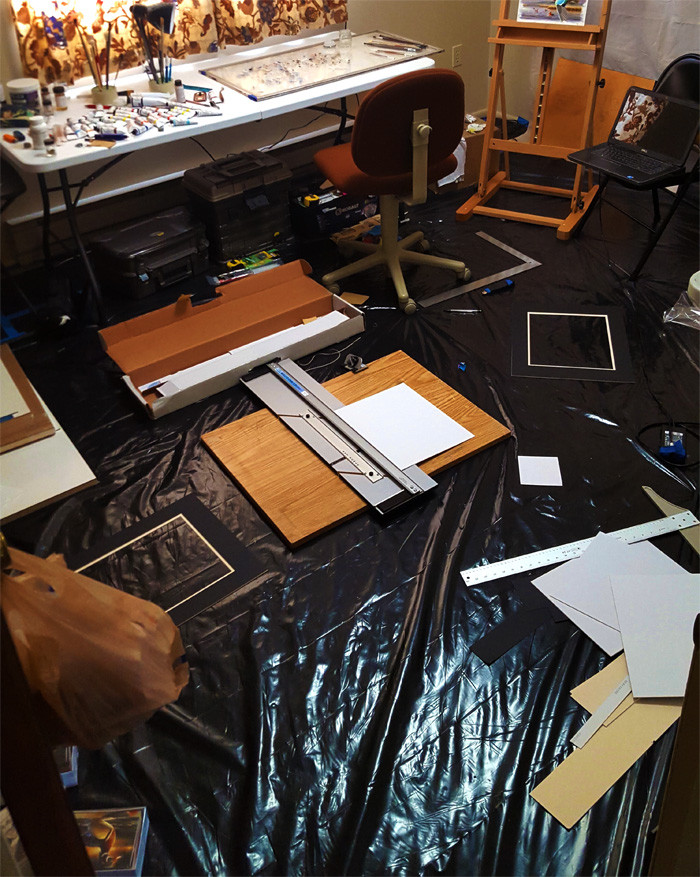 So after spending about a month working out of this space I've learned that the most important thing is to have a clean floor space. Obviously in this photo it was very very messy! Although I was putting together some new frames and mat-boards and the best way to accomplish that with the space I have is to get down and spread out on the floor. :) When I'm finished I clean it right up and it becomes a completely open area again. Sort of a pull out work table in a sense. The carpet flooring is also covered with a painter's drop cloth which keeps the room nearly dust free which is a huge advantage for the slow drying oil paints and also when I'm framing under glass.
The other big thing I've learned is the advantages of a large tabletop palette.
This is a old glass window I found in a storage locker. I taped some craft paper underneath to give it a nice off-white color which help me personally for mixing paint colors. This enormous palette has helped me stay efficient and organized compared to my old palette. 
The glass is super easy to clean up with a glass scraper the next morning when most of the paint has somewhat dried. This cuts back on my cleaning supplies I need. The large surface allows me to keep working without ever running low on clean mixing space which cuts back on how often it needs cleaning. All of this aids a little in helping me keep my tools and equipment organized. There's plenty of room this way to leave tools and brushes out at the end of the day which helps me get to work faster the next morning
Keeping my colors organized though is a completely different story! I hope you enjoy seeing a few things behind the scenes of my artwork. Hopefully the next post I can show you some new art!
Chuck
---
1 comment
---
---